Campaign Details
Cetaphil (car wrap, in-car hanger & samples distribution)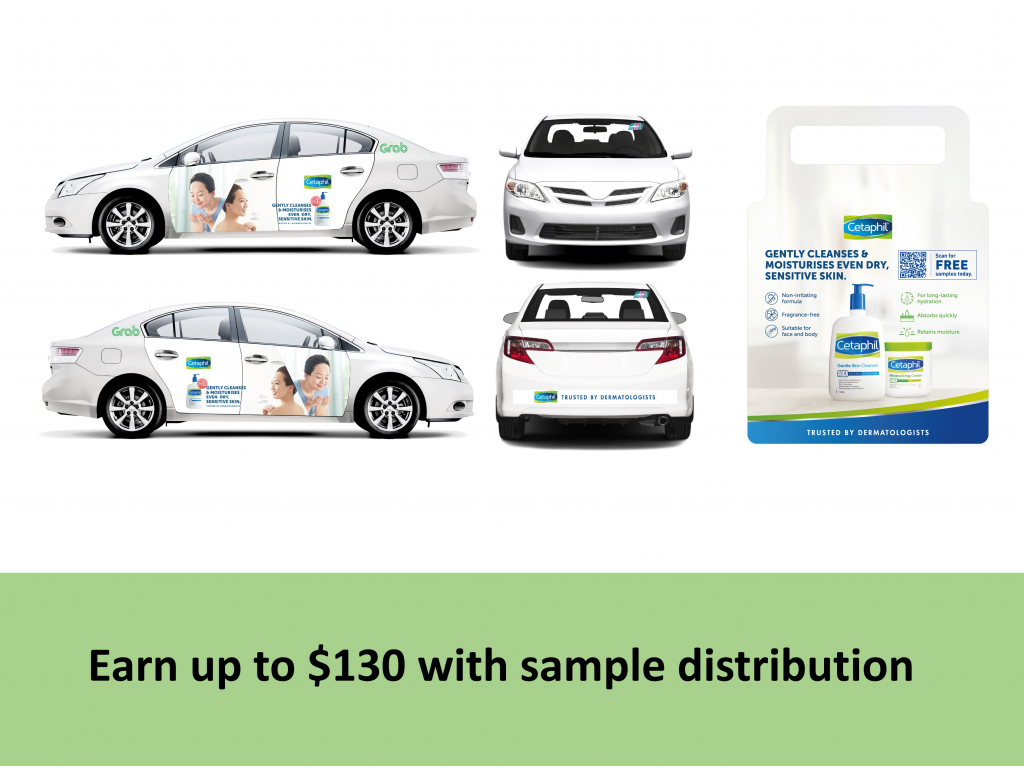 Dates
Registration
Start Date
Thu, 10 Sep 2020
End Date
Wed, 16 Sep 2020
Installation Period
Estimated installation time is 30 to 45 minutes for stickers and 5 to 10 mins for in-car hangers.
Start Date
Tue, 15 Sep 2020
End Date
Wed, 16 Sep 2020
Campaign
Start Date
Mon, 21 Sep 2020
End Date
Tue, 20 Oct 2020
Uninstallation Period
Estimated uninstallation time is 15 to 25 minutes for stickers and 5 to 10 mins for in-car hangers.
Start Date
Wed, 21 Oct 2020
End Date
Thu, 22 Oct 2020
Details
Incentives
Payout
S$90
---
Payout Details
$90 (if driver issues 1 to 24 samples)
$110 (if driver issues 25 to 39 samples)
$120 (if driver issues 40 to 49 samples)
$130 (if driver issues all 50 samples)

Payment will be made via your Grab wallet two weeks after the end of uninstallation period
Sticker Placements
Car Stickers:
In-car Items
In-car hanger (Sample Bar) with unique QR codes for Grabstore sampling
Car Labels:
Grab label at both C-pillars (Total = 2pc)
Carblicity label at both windscreens (Total = 2pc)
Requirements
Reporting
Reporting of mileage and sticker integrity is required.
You must hit a minimum mileage of 3000km every 30 days from the campaign start date.
Online Reporting Dates (Window Periods)

Report 1: 20/10/2020 to 23/10/2020

Location
This job is only available to drivers in Singapore
Vehicle
This job is only available to Car type vehicles only.
Drivers
This job is open to Grab drivers only.
Others

Please read carefully

Sampling campaign involves distributing Cetaphil samples during campaign period.
This advertising campaign involves car wraps and an in-car hanger for all participating vehicles
Relief drivers won't be able to distribute the samples
Remaining samples must be returned during uninstallation
Only sign up for the campaign if you are able to make it for the installation timeslot. Drivers who miss their installation appointment will automatically be removed from the campaign.

Lion City Rentals (LCR) does not allow its hirers to participate in advertising-related campaigns. By signing up, you hereby confirm that your Grab-registered vehicle is not rented from LCR.