Service Agreement
This Services Agreement ["Agreement"] constitutes a legal agreement between you, an individual ["you"] and Boom Town Charlie Pte Ltd, a private limited company ["Company"] registered in Singapore, having its office at 33 Ubi Avenue 3 #07-16 Singapore 408868.
The Company is in the business of supplying and managing vehicles for the purpose of advertising, using sticker decals ["Services"]. The Company will source for advertisers ["Client"] and provides advertising campaigns ["Campaign"] to you via the Carblicity website, http://www.carblicity.com ["Website"]. You desire to enter into this Agreement for the purpose of accessing and using Services provided by the Company.
You acknowledge and agree that the Company is a marketing and advertising service provider.
In order to accept the Services provided by the Company, you must agree to the terms and conditions that are set forth below. Upon your execution (electronic or otherwise) of this Agreement, you and Company shall be bound by the terms and conditions set forth herein.
During the Campaign duration, you agree to be exclusive for the provision of Services as listed below in 1. . The Campaign duration is defined as the day you accept the Campaign on the Website until the day of the sticker removal. During the Campaign, you agree that you shall not commit the same vehicle to participate in any other activities involving vehicle advertising services.
You shall not use or disclose, other than for the sole purpose of performing the Services, any information relating to the Company or to any of its affiliates or associates. All information provided shall be deemed strictly confidential.
1. Use of the Company's Services

1.1 Pre-Campaign Vehicle Terms. You acknowledge and agree that your vehicle is approved for advertising stickers to be applied on it. You are solely responsible to check with the employer/ leasing company/ original owner for approval if the vehicle does not belong to you.
1.2 Campaign Acceptance. Advertising Campaigns will be made available to you via the Website. During the Campaign acceptance, you are able to accept the campaign, choose a sticker installation date and time slot, withdraw from the Campaign or make changes to the installation date and time slot. You are not allowed to withdraw from the Campaign or make changes to the sticker installation date and time slot after this acceptance period. In the event you are unable to make it for the sticker installation appointment, you are to contact the Company at least 24 hours prior to your appointment and indicate at your Campaign details page of the Website; You shall then receive a negative strike in the rating system. If you did not inform us of your unavailability, you will be permanently banned from the system and future participation in the Company's Services. The date of sticker installation may be before and not coincide with the Campaign start date. You will not be able to accept another Campaign that has overlapping duration with your current Campaign. You acknowledge and agree that once you have accepted a Campaign, you will carry out the responsibilities as stated in this Agreement.
1.3 Pre-Installation terms. You acknowledge and agree that there is a possibility that any rear-facing car camera may be blocked by the rear-windscreen sticker placement. The Company will not be held liable for any loss of claims from accidents due to the unavailability of rear video footage from any rear-facing car camera.
1.4 Pre-Installation Vehicle Condition. You acknowledge and agree that the vehicle shall not have accessories or body kits that may block the visibility of the advertising stickers e.g. GT wings, spoilers, vented bonnets, etc. The vehicle surface shall be clean of dirt and debris at the arrival of your vehicle at the installation site. There shall be no other stickers, brands or logos visible on the vehicle besides the vehicle's OEM markings. If such accessory, body kit or brand sticker is present, please check with Company if the chosen Campaign allows for it.
1.5 Sticker Installation. You acknowledge and agree that the sticker installation will be done between 1 to 10 working days before Campaign start date unless otherwise stated at the Campaign detail page. The process will take about 30 to 60 minutes for a typical Campaign. Your Campaign starting mileage will be recorded during the installation, which will be used to calculate your required monthly minimum mileage for the Campaign.
1.6 Sticker Integrity. You acknowledge and agree that you have to maintain the cleanliness and integrity of the advertising stickers from the date of installation to the date of removal. You shall report to the Company whenever the integrity of the sticker is compromised in ways including but not limited to being modified, scratched, burnt, flapping, missing, torn, cut, smeared, faded, curled, rippled etc. The Company will at all times hold the discretion whether to replace the damaged or missing stickers, or to remove your involvement in the Campaign completely. You acknowledge and agree to comply whenever the Company contacts you to report to any designated installation center for a physical assessment of the vehicle during any point of the Campaign.
1.7 On-Road Exposure. After the sticker has been installed, you will have to achieve a mileage of at least 1,000 km per month (unless otherwise stated on the Website), failing which, you will not be paid for that Campaign month. There will also not be any prorated payments for mileage clocked under or above the minimum mileage stated. If the odometer of your vehicle is found to be tempered with, you will not be paid for any current or future Campaign payouts, you'll be permanently banned in our system, and you will be reported to local authorities on accounts of cheating as well as illegal tempering of vehicle meters. On the assumption that you have been illegally modifying your vehicle mileage to hit the monthly minimum requirement of the Campaigns, Company reserves the right to claw-back any pass Campaign payouts that have been made to you.
1.8 Monthly Reporting. Unless otherwise stated, you are required to submit a report at the end of every Campaign month. You must submit the report via the Company's website, consisting of pictures clearly displaying the front, left, right and rear sides of your vehicle and its odometer mileage reading. Email reminders will be sent once the reporting duration is open (5 days before the end of each campaign month). Payment due to you will be void for each month that reports are not submitted.
1.9 Incident Reporting. You are required to inform the Company whenever an incident has occurred that prevents you from fulfilling your campaign requirements. Incidents to be reported, include but are not limited to, (A) Vehicle Incident: Accident, breakdown, returned; (B) Personal Incident: Disqualification of driving license, disability, overseas. You may remain on the campaign if the incident is temporary and may be resolved. Carblicity reserves the right to terminate your participation and void payment if incident is unresolvable.
1.10 Campaign Duration. You are required to complete the entire duration of the campaign, from the Campaign Start Date to the Campaign End Date as indicated during sign up. Installation and uninstallation of the sticker ads occur before and after the campaign respectively. Because of this, actual duration the sticker ads are on your vehicle may be longer than the campaign duration. Partial participation of campaign duration is not allowed. Not only will payment not be made, but a penalty fee will be imposed (see point 3.5).
1.11 Code of Conduct. While on a campaign, you are required to observe good driving behavior at all times. If you have been reported to have displayed bad driving behavior, and after investigation by the Company, your participation to the Campaign will be terminated with immediate effect and all payments to you will be void.
1.12 Campaign Termination. The Company reserves the right to terminate your participation in the campaign with justifiable cause if any of the terms in this agreement has been breached by you.
1.13 Media Rights. Pictures and videos may be taken of you and your vehicle during the installation, campaign, and uninstallation durations. You acknowledge and agree to transfer all rights of such images and videos to the Company. The company reserves the right to use these images for the purpose of, including but not limited to, marketing collaterals and press releases and may be published and broadcasted on mediums such as online social media platforms and print ads.
1.14 Rating System. You acknowledge and agree to be subjected to Company's rating system which will be made available to Clients upon request. You shall have up to three negative strikes before the Company prohibits you from using its Website and Services entirely. The following scenarios will warrant a negative rating for you in our system:
1.14.1 You showed up for installation after accepting a Campaign and your vehicle did not meet the requirements. E.g. Presence of GT-wing. (= 1 strike)
1.14.2 You are unable to make it for the installation appointment, but you notified Company at least 24 hours before your installation appointment. (= 1 strike)
1.14.3 You did not show up for installation after accepting a Campaign without notifying Company before the installation appointment. (= 3 strikes and an immediate permanent ban)
1.14.4 You did not hit the minimum mileage of 1,000km (unless otherwise stated) of the Campaign. (= 1 strike)
1.14.5 You did not post a photo of your car on your Facebook wall, and 'tag' Company's Facebook page for visibility. (= 1 strike for each Campaign month)
1.14.6 You did not report the compromise of sticker integrity before the submission of the monthly vehicle walk-around video. (= 1 strike)
1.14.7 You did not visit the installation center 30 days after Campaign end date to remove the stickers. (= 1 strike and final payout forfeited)
1.14.8 You tempered with your vehicle's odometer. (=3 strikes and an immediate permanent ban)
1.15 Campaign Cancellation. You acknowledge and agree that the Company reserves the right to cancel the Campaign, or remove your participation in a Campaign at any time. The Campaign may be cancelled if it does not reach the required number of drivers as specified in the Campaign details by Clients.
1.16 Campaign End. You acknowledge and agree to book a sticker removal appointment with the installation partner at least 10 working days before the end of the Campaign. You will receive payment only upon sticker removal.
1.17 Disclosure of information. The Company may provide certain information about you to the Client, including your name, contact information, vehicle's make and licence plate number. You shall not contact any Client or use any Client's data for any reason other than for the purposes of fulfilling the Services.
1.18 Your Relationship with Clients. Nothing in here, including participation in campaigns, constitutes a relationship with the advertiser. For the avoidance of doubt, there is no legal contract and/or agent relationship between you and the client. You acknowledge and agree that Company may release your contact and/or information included in your account profile to a Client upon such Client's reasonable request.
1.19 You acknowledge and agree that your provision of advertising Services to Clients creates a legal business relationship between you and the Client. You shall have the sole responsibility for any obligations or liabilities to Clients or third parties that arise from your provision of advertising Services. You are solely responsible for taking such precautions as may be reasonable and proper (including maintaining adequate insurance that meets the requirements of all applicable laws) regarding any acts or omissions of a Client or third party. You acknowledge and agree that Company may release your contact and/or information included in your account profile to a Client upon such Client's reasonable request
1.20 Your Relationship with Company. You acknowledge and agree that Company's provision to you of the Website and the advertising Services creates a legal and direct business relationship between the Company and you. The Company does not, and shall not be deemed to, direct or control you generally or in your performance under this Agreement specifically, including in connection with your provision of advertising Services, your acts or omissions, or your operation and maintenance of your vehicle. You retain the sole right to determine when and for how long you will utilize the Website when you are not carrying out a Campaign. You retain the option, via the Website, to attempt to accept or to ignore a Campaign upon receiving notifications. You retain the complete right to engage in any other occupation or business using the vehicle. Company retains the right to, at any time at Company's sole discretion, deactivate or otherwise restrict you from accessing or using the Website or Services in the event of a violation of this Agreement, your disparagement of Company or any of its Affiliates, your act or omission that causes harm to Company's or its Affiliates' brand, reputation or business as determined by Company in its sole discretion. Company also retains the right to deactivate or otherwise restrict you from accessing or using the Website or Services for any other reason at the sole and reasonable discretion of Company.

2. Your Vehicle

2.1 Your Requirements. You acknowledge and agree that at all times, you shall hold and maintain a valid driver's license with the appropriate level of certification to operate your Vehicle. Company reserves the right, at any time in Company's sole discretion, to deactivate or otherwise restrict you from accessing or using the Website or Services if you fail to meet the requirements set forth in this Agreement.
2.2 Vehicle Requirements. You acknowledge and agree that your Vehicle shall at all times be: (a) properly registered and licensed in the Territory; (b) owned or leased by you, or otherwise in your lawful possession; (c) suitable for performing the advertising services contemplated by this Agreement; and (d) maintained in good operating condition, consistent with industry safety and maintenance standards for a Vehicle of its kind and any additional standards or requirements in the applicable Territory, and in a clean and sanitary condition.
2.3 Documentation. To ensure your compliance with all requirements in Sections 2.2 and 2.3 above, you must provide the Company with your Driver's license and leasing document (if applicable). Thereafter, you must submit to Company such license and leasing document as they are renewed or changed. The Company shall, upon request, be entitled to review such licenses and document from time to time, and your failure to provide or maintain any of the foregoing shall constitute a material breach of this Agreement. The Company reserves the right to independently verify your documentation from time to time in any way the Company deems appropriate in its reasonable discretion.
2.4 Damages: The application process has been tried and tested to be safe for the car's paintwork and can be installed and removed cleanly without damage to sound, factory original (OEM) painted surfaces. Upmost care and effort undertaken by trained professionals will be used ensure the integrity of your car's paintwork. However, damages to the vehicle's paintwork may occur when the vehicle is not of original stock paintwork and has pre-existing damages. If your vehicle possesses the conditions indicated above, you are advised that NOT to participate in any campaign if you are not willing to accept the increased risk of paint damage. In ANY case, the company will not be held liable for any damages to your vehicle during the installation process, campaign duration and uninstallation process. You acknowledge and agree to indemnify the Company of any damages, loss, finical or otherwise, that may arise due to damages to your vehicle.

3. Financial Terms

3.1 Payment Requirements. Payment will only be made out if you have fulfilled all the requirements below:

Complete the entire duration of the campaign
Fulfill monthly minimum mileage to be covered
Submit monthly reports
Maintain sticker integrity at all times
All other requirements as stated in the campaign details during sign up

3.2 Payment Date. Unless otherwise stated, payment shall be made out in full within two weeks from the campaign end date.
3.3 Payment Mode. Unless otherwise stated, payment will be made via bank transfer directly to the bank account as indicated in your profile page on the Company's website. You are responsible for ensuring that the bank details indicated are accurate. The company will not be responsible for payment errors arising from inaccurate bank details indicated by you. In such cases, if the error is resolvable by the participating banks, an admin fee of $10 (deducted from your overall payment) is chargeable to reinitiate the payment to you again.
3.4 Payment Adjustment. Full payment will be prorated down for each month that you (A) did not hit the minimum mileage to be covered, (B) did not submit your monthly report. There will be no prorated payment for mileage that falls above or under the minimum mileage to be covered.
3.5 Penalty Fee. A penalty of $256.80 is chargeable if you fail to complete the entire duration of the campaign regardless if the termination is voluntary or involuntary. However, if you feel you have a strong case substantiated with evidence, you may make an appeal to the Company to have the penalty waived. The Company reserves sole judgement in each case and decisions final.
3.6 Changes to Payment. Company reserves the right to change the Campaign payment at any time in Company's discretion, and Company will provide you with notice in the event of such change that would result in a change in the Payment. Continued use of the Website and Services after any such change in the Campaign Payment shall constitute your consent to such change.
3.7 Payment Adjustment. Company reserves the right to adjust the payment for a particular instance of Campaign (e.g. you did not maintain the sticker integrity during the Campaign.); or cancel the payment for a particular instance of Campaign (e.g. you did not submit the monthly check video, you got into an accident, etc.). The Company's decision to reduce or cancel the payment in any such manner shall be exercised in a reasonable manner.

4. Confidentiality

4.1 Each party acknowledges and agrees that in the performance of this Agreement it may have access to or may be exposed to, directly or indirectly, confidential information of the other party ("Confidential Information"). Confidential Information includes Company Data, Driver licenses, Client Information, and the advertising campaign details, marketing and business plans, operational and such other non-public information of each party (whether disclosed in writing or verbally) that such party designates as being proprietary or confidential or of which the other party should reasonably know should be treated as confidential.
4.2 Each party acknowledges and agrees that: (a) all Confidential Information shall remain the exclusive property of the disclosing party; (b) it shall not use Confidential Information of the other party for any purpose except in furtherance of this Agreement; (c) it shall not disclose Confidential Information of the other party to any third party, except to its employees, officers, contractors, agents and service providers ("Permitted Persons") as necessary to perform under this Agreement, provided Permitted Persons are bound in writing to obligations of confidentiality and non-use of Confidential Information no less protective than the terms hereof; and (d) it shall return or destroy all Confidential Information of the disclosing party upon the termination of this Agreement or at the request of the other party (subject to applicable law and, with respect to Company, its internal record-keeping requirements).
4.3 1.1 Notwithstanding the foregoing, Confidential Information shall not include any information to the extent it: (a) is or becomes part of the public domain through no act or omission on the part of the receiving party; (b) was possessed by the receiving party prior to the date of this Agreement without an obligation of confidentiality; (c) is disclosed to the receiving party by a third party having no obligation of confidentiality with respect thereto; or (d) is required to be disclosed pursuant to law, court order, subpoena or governmental authority, provided the receiving party notifies the disclosing party thereof and provides the disclosing party a reasonable opportunity to contest or limit such required disclosure.

5. Privacy

1.1 Subject to all applicable laws, Company may provide to a third party any information (including personal data and any Company Data) about you provided hereunder if: (a) there is a complaint, dispute or conflict, including an accident, between you and a Client; (b) it is necessary to enforce the terms of the Agreement; (c) it is required, in Company's or any Affiliate's sole discretion, by applicable law or regulation; (d) it is necessary, in Company's or any Affiliate's sole discretion, to (1) protect the safety, rights, property or security of Company, Carblicity's Services or any third party, (2) detect, prevent or otherwise address fraud, security or technical issues, and/or (3) prevent or stop activity which Company or any of its Affiliates, in their sole discretion, consider to be, or to pose a risk of being, illegal, unethical, or legally actionable; or (e) it is required or necessary, in Company's or any Affiliate's sole discretion, for insurance or other purposes related to your ability to qualify, or remain qualified, to use Carblicity's Services. You understand that Company may retain your personal data for legal, regulatory, safety and other necessary purposes after this Agreement is terminated. Your personal data will be directly transferred to and processed by Carblicity, acting in its capacity as data controller of such personal data. Company processes personal data in accordance with its privacy policy located at www.carblicity.com/legal.

6. Representations and Warranties; Disclaimers

6.1 By You. You hereby represent and warrant that: (a) you have full power and authority to enter into this Agreement and perform your obligations hereunder; (b) you have not entered into, and during the term will not enter into, any agreement that would prevent you from complying with this Agreement; and (c) you will comply with all applicable laws in your performance of this Agreement, including holding and complying with all permits, licenses, registrations and other governmental authorizations necessary to drive your vehicle in the Territory generally.
6.2 Disclaimer of Warranties. Company and its Affiliates provide, and you accept, the Website and Company Services on an "as is" and "as available" basis. Company and its Affiliates do not represent, warrant or guarantee that your access to or use of the Website or Services: (a) will be uninterrupted or error free; or (b) will result in any provision for advertising Campaigns. Company and its Affiliates function as an on-demand lead generation and related service only and make no representations, warranties or guarantees as to the actions or inactions of the Clients who may request or receive advertising Services from you, and Company and its Affiliates do not screen or otherwise evaluate Clients. Notwithstanding Company's appointment as the payment collection agent of you for the purpose of accepting payment from Clients on your behalf as set forth in above, Company and its Affiliates expressly disclaim all liability for any act or omission of you, any Client or other third party.
6.3 No Service Guarantee. Company and its Affiliates do not guarantee the availability or uptime of the Website. You acknowledge and agree that the Website may be unavailable at any time and for any reason (e.g., due to scheduled maintenance or network failure). Further, the Website may be subject to limitations, delays, and other problems inherent in the use of the internet and electronic communications, and Company and its Affiliates are not responsible for any delays, delivery failures or other damages, liabilities or losses resulting from such problems.

7. Indemnification

7.1 Generally. You shall indemnify, defend (at Company's option) and hold harmless Company and its Affiliates and their respective officers, directors, employees, agents, successors and assigns from and against any and all liabilities, expenses (including legal fees), damages, penalties, fines, social security contributions and taxes arising out of or related to: (a) your breach of your representations, warranties or obligations under this Agreement; or (b) a claim by a third party (including Clients, regulators and governmental authorities) directly or indirectly related to your provision of advertising Services or use of the Website.
7.2 Tax Indemnity. You shall comply with all of your obligations under tax and social security laws to the extent applicable to this Agreement. You shall indemnify Company from all tax liabilities, duties, levies, claims and penalties that may be imposed on you or on Company as a result of your failure to comply with any of your tax obligations. In particular, but without limitation to the foregoing, such taxes or duties shall include taxes, wages or other duties or withholdings (including any wage tax, social insurance premiums or employee insurance premiums) arising in the event that the relationship described in this Agreement, contrary to the intention and meaning of the parties, should be held to be an employment agreement between the Company and you by the Singapore fiscal or social security authority or the fiscal or social security authority of any other country.
7.3 Limits of Liability. Company and its Affiliates shall not be liable under or related to this Agreement for any of the following, whether based on contract, tort or any other legal theory, even if a party has been advised of the possibility of such damages: (i) any incidental, punitive, special, exemplary, consequential, or other indirect damages of any type or kind; or (ii) your or any third party's property damage, or loss or inaccuracy of data, or loss of business, revenue, profits, use or other economic advantage. These limitations do not purport to limit liability that cannot be excluded under applicable law.

8. Term and Termination

8.1 Term. This Agreement shall commence on the date that the Agreement is executed by you (electronically or otherwise) and shall continue until terminated as set forth herein.
8.2 Termination. Company may terminate this Agreement: (a) immediately, without notice, for the other party's material breach of this Agreement. In addition, Company may terminate this Agreement or deactivate your User ID immediately, without notice, with respect to you in the event you no longer qualify, under applicable law or the standards and policies of Company and its Affiliates, to operate the Vehicle, or as otherwise set forth in this Agreement.
8.3 Effect of Termination. Upon termination of the Agreement, you shall promptly return to the Company-appointed installation center(s) to remove advertisement stickers, if any.

9. Miscellaneous Terms

9.1 Modification. Company reserves the right to modify the terms and conditions of this Agreement at any time, effective upon publishing an updated version of this Agreement on the online portal available to you in the Website. Company reserves the right to modify any information referenced at hyperlinks from this Agreement from time to time. You hereby acknowledge and agree that, by using the Website, you are bound by any future amendments and additions to this Agreement, information referenced at hyperlinks herein, or documents incorporated herein, including with respect to Campaign Payouts. Continued use of the Website after any such changes shall constitute your consent to such changes.
9.2 Supplemental Terms. Supplemental terms may apply to your use of the Website, such as use policies or terms related to certain features and functionality, which may be modified from time to time ("Supplemental Terms"). You may be presented with certain Supplemental Terms from time to time. Supplemental Terms are in addition to, and shall be deemed a part of, this Agreement. Supplemental Terms shall prevail over this Agreement in the event of a conflict.
9.3 Severability. If any provision of this Agreement is held to be illegal, invalid or unenforceable, in whole or in part, under any law, such provision or part thereof shall to that extent be deemed not to form part of this Agreement but the legality, validity and enforceability of the remainder of this Agreement shall not be affected. In that event, the parties shall replace the illegal, invalid or unenforceable (part of the) provision with a (part of a) provision that is legal, valid and enforceable and that has, to the greatest extent possible, a similar effect as the illegal, invalid or unenforceable (part of the) provision, given the contents and purpose of this Agreement.
9.4 Assignment. You may not assign or transfer this Agreement or any of your rights or obligations hereunder, in whole or in part, without the prior written consent of Company. Company may assign or transfer this Agreement or any or all of its rights or obligations hereunder, in whole or in part, under this Agreement without consent or notification. Should the Company do so, you have the right to terminate this Agreement immediately, without prior notice.
9.5 Entire Agreement. This Agreement, including the recitals and all Supplemental Terms, constitutes the entire agreement and understanding of the parties with respect to its subject matter and replaces and supersedes all prior or contemporaneous agreements or undertakings regarding such subject matter. In this Agreement, the words "including" and "include" mean "including, but not limited to." The recitals form a part of this Agreement.
9.6 No Third Party Beneficiaries. You acknowledge that there are no third party beneficiaries to this Agreement. Nothing contained in this Agreement is intended to or shall be interpreted to create any third party beneficiary claims.
9.7 Notices. Any notice delivered by Company to you under this Agreement will be delivered by email to the email address associated with your account or by posting on the online portal available to you on the Website. Any notice delivered by you to Company under this Agreement will be delivered by contacting Company at http://www.carblicity.com in the "Contact Us" section. Additional Territory-specific notices may be required from time to time.
By clicking "Sign up" or "Participate", you expressly acknowledge that you have read, understood, and taken steps to thoughtfully consider the consequences of this Agreement, that you agree to be bound by the terms and conditions of the Agreement, and that you are legally competent to enter into this Agreement with Company.
Campaign Details
Nexen Tires - Extended (Current Drivers only)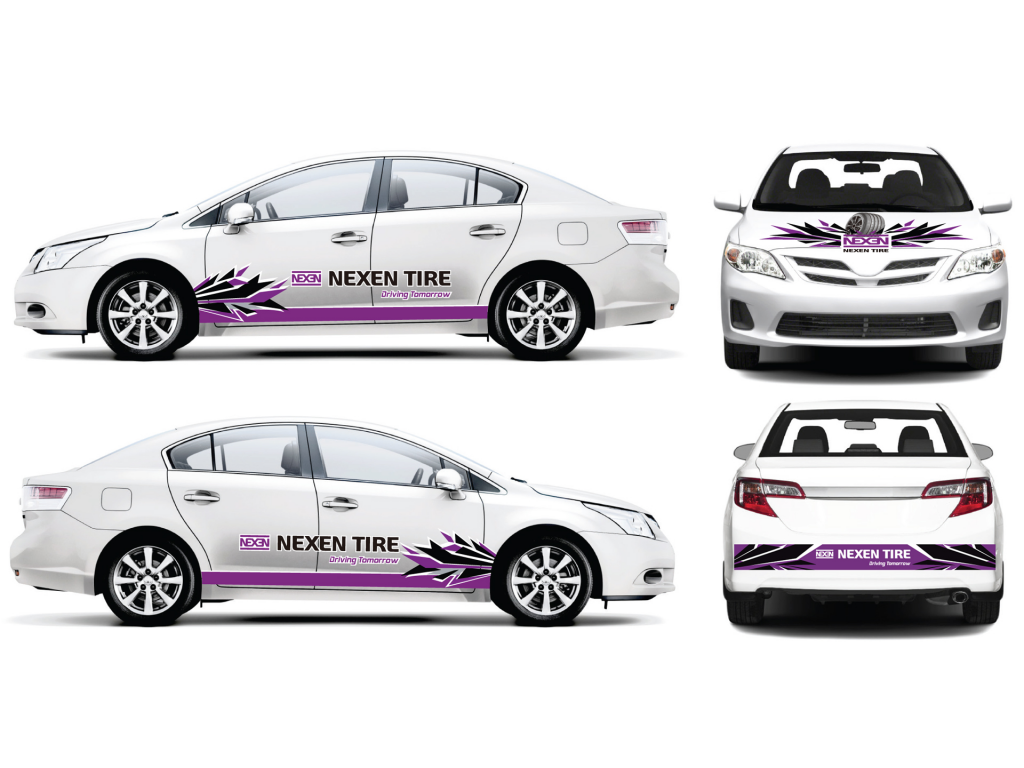 Dates
Registration
Start Date
Sun, 22 Apr 2018
End Date
Sun, 22 Apr 2018
Installation Period
Estimated installation time is 30 mins for door wrap, 10 mins for bumper and 10 mins for in-car hangers.
Start Date
Sun, 22 Apr 2018
End Date
Sun, 22 Apr 2018
Campaign
Start Date
Fri, 27 Apr 2018
End Date
Mon, 23 Jul 2018
Uninstallation Period
Estimated uninstallation time is 15 to 25 minutes for stickers and 5 to 10 mins for in-car hangers.
Start Date
Tue, 24 Jul 2018
End Date
Tue, 7 Aug 2018
Details
Incentives
Payout
S$350
---
Payout Details
$200 in cash
$100 in Nexen Tires cash vouchers
$50 cash voucher Shell servicing package by TyrePlus
Cash Vouchers given on your uninstallation date. Cash payment made directly to your bank account two weeks after uninstallation date.
Sticker Placements
Custom die cut side panel decals (left & right), Bonnet , Bumper
Requirements
Reporting
Reporting of mileage and sticker integrity is required.
You must hit a minimum mileage of 1000km every 30 days from the campaign start date.
Online Reporting Dates (Window Periods)

Report 1: 19/05/2018 to 23/05/2018
Report 2: 19/06/2018 to 23/06/2018
Report 3: 19/07/2018 to 23/07/2018

Location
This job is only available to drivers in Singapore
Vehicle
This job is only available to Car type vehicles only.
This job is only available to vehicles that are owned.
Others
Nexen Cash Vouchers Terms and Conditions:

Vouchers can only be used for Nexen Tires
Vouchers redeemable at 219 Kaki Bukit Ave 1, Shun Li Industrial Park, Singapore 416044
Nexen Tires price range from $70, $80, $90 for 14", 15" and 16" respectively.
Vouchers not exchangeable for Cash
Any unutilized amount from this voucher will not be refundable
Voucher valid till 31st December 2018
Stock are subject to availability, booking is required (6746 6686)